The Goldenhawk tribute project is designed to focus on the general public wherein all our customers reside.
"A proud Canadian project."

Powerful PR for Powerful People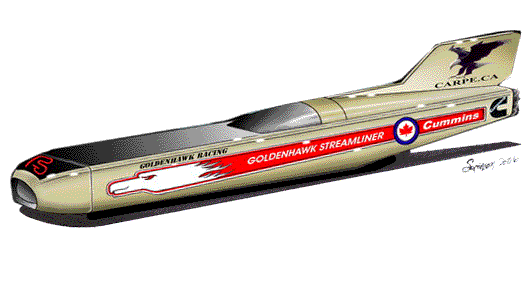 The purpose of the project;
The purpose is to further the public relations and build brand awareness for the sponsors. To provide an exciting and unusual element at tradeshows, conventions, dealer openings, car shows and air shows.
Some elements that attract and hold an audience;
First the tribute to the aerobatic team is to reach person who remember the Royal Canadian Air Force GOLDENHAWK'S great crowd pleasing performances and will enjoy sharing their memories with others in attendance, perhaps their grandchildren. The long and low car 38inches high gives children the opportunity to view it at their level and the tall vertical stabilizer (rudder) can be seen in a crowded venue like Air shows and conventions. The transporter also is a highly visible billboard (53ft.long 12+ft high, plus the tractor) and functional tool for the public relations staff. Get your exposure here 24/7 365 days of the year. DVD's go home to family collections, the CDs

The project contains added elements of attraction;
TV exposure, it is proposed that a documentary style video will be shot to document the chronological events from the start of the build to the setting of the record. This will include short stories featuring each of the sponsors. This will be produced by The Discovery Channel's
Peter Grainger.
Live internet, coverage at Speedweek 2007 from the Bonneville Salt Flats. The preparation and trial runs, plus the actual footage recorded inside the streamliner cockpit. (Two cameras on board to record the runs). Also highlights of other situations of interest in the pits and out on the race course.
Souvenirs program,
Souvenirs of the sponsors will be made available for sale at all displays and on the internet.

Calendars will be developed for distribution to your customers.

DVD & CD Presentations, copies of the above video with our sponsor's information included.
Posters are collectables, Copies of the Bonneville speed week record and announcement posters to be distributed by sponsors.
Ad wear, of the team and the sponsors will be made available for sale at all displays and on the internet.
Your souvenirs & collectables, and brochures may be distributed.
The project is suited to Parades, malls, exhibitions and Museum displays.

Golden Hawk Landspeed record projects a powerful promotion for the smart brand manager and a missed opportunity for those who don't recognize the opportunity.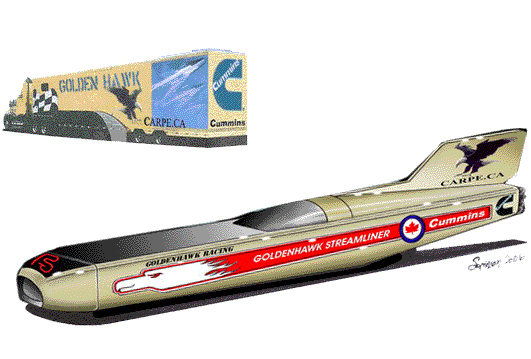 The project term;
It is proposed that the display will be available for the two years immediately following the land speed record setting week.

The venues to attend;
The car will attend events from Ontario to the west coast of Canada with possibly some U.S. venues.
How it is financed;
Advertising sales on Plastic trash cans for Bonneville speed week decaled with the sponsors brand. A lasting legacy for many for years to come they will be stored and reused by the club twice annually during Speekweek and Fall Finals events.
The project is financed by various sponsors supplying their materials and services in kind. Appearance fees will be collected and revenue from the sale of souvenirs.

Some Typical sponsors;
Cummins Western Canada , is developing 3.9litre diesel w turbocharger and Nitrous oxide injection producing 650hp.
Agnew Bailiffs and Financial Adjusters Ltd.
48 Foot semi Trailer with lift and lounge, by Carpe.ca
***Volvo tractor /Cummins diesel from Walker Trucking. (Unconfirmed)
Murphy Aircraft Manufacturing, Design and build special parts
Icemaker machinery donated by Love's Auctioneers and Appraisers Ltd.
Speedway wheels custom made by Green's Automotive.
Steel Tubing and metal supplies by Aggressive Tube Bending
Global Inkstorm to wrap the car and transport with vinyl imagery.
Werner Sprenger, transmission and differential modifications design and build.
OTT Industries construct front axles and steering, build Front wheel drive unit, steering and special custom built overdrive.
(Un announced) Fabrication Company to cut and weld chassis to Bonneville National Inc.'s 2006 Rulebook specifications.
Plastec to supply special composite body panels and Lexan cockpit canopy
Printing and poster distribution by the Global Inkstorm
Air-conditioning for streamliner and lounge supplied by Cool-it Hiway Services and their affiliate companies.
Kool Coat to supply ceramic shield coating on turbocharger, headers and exhausts.
Tires supplied by Competition tire/ Goodyear
Tire life products donated by Fuller Brothers
Design consultant Ken Walkey, owner and driver of 316 mph "Grandpa's Toy"
Web designs by Judy Vaughan and Brian Beesley.
High performance lubricants by Nitrolube
Photographer for project and computer guy, Brian Beesley.
Airbrush art for project, Nick Boos
Illustrations by Daryl Sorenson - art director
Engineering drawings by Daniel Ciechonski and Kevin Knox
Chief mechanic W. Sprenger of W.C.S. Holdings Ltd.
Transport driver - James Walker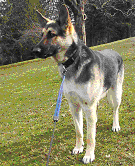 Security provided by mascot Barklee

Stay tuned for updates on the website soon to be posted